Facebook
l
Twitter
l
Gallery
l
Watch Me
l
Note Me
Cosfest X.1 is over. It's been a long 4 days for me. I've been missing my bed, pillow and bolster for
three
nights. T____T
Okay apart from that, I've met amazing people over day 1 & day 2.

Day 1 was just walking around. As for Day 2, I was cosplaying as Kairi from Kingdom Hearts 2. Things happened over the week of Cosfest so I couldn't complete my keyblade. T____T Omg keybladeeee.
I'm sorry if I didn't talk to anyone of you @ Cosfest because I've been reaaaaaaaaaally sick and I lost my voice (most of it) during the event itself. /sob
Okay I shan't make this such a wordy entry. Here are some pictures-.. or polaroids rather! :3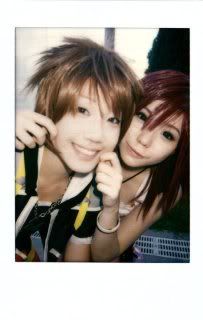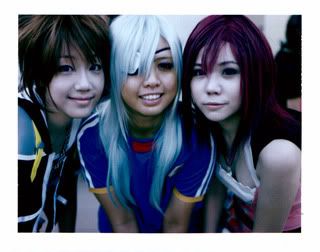 Stolen from

. Isn't she such an awesome Sora?!
Missing from the shots is our Riku, supposed to be cosplayed by

but she was too sick that day to cos. ;w;
I am such a
chui - slang for terrible
Kairi. Especially since I was feeling very sick and tired. /sob
Anyway, some people have actually managed to find me on facebook which.. IDK how. Anyway, I've created another account for cosplay because my personal account's getting too messy.
Feel free to add me if you want.
[link]
.
.. Urgh.. I was just about to head to the doctors and it's pouring madly now. >___________> Why am I so suay?

Plz help me make a journal skin! 8D
CSS made by `
TwiggyTeeluck
Background image by *
AF-studios
Brushes by ~
SummerAIR